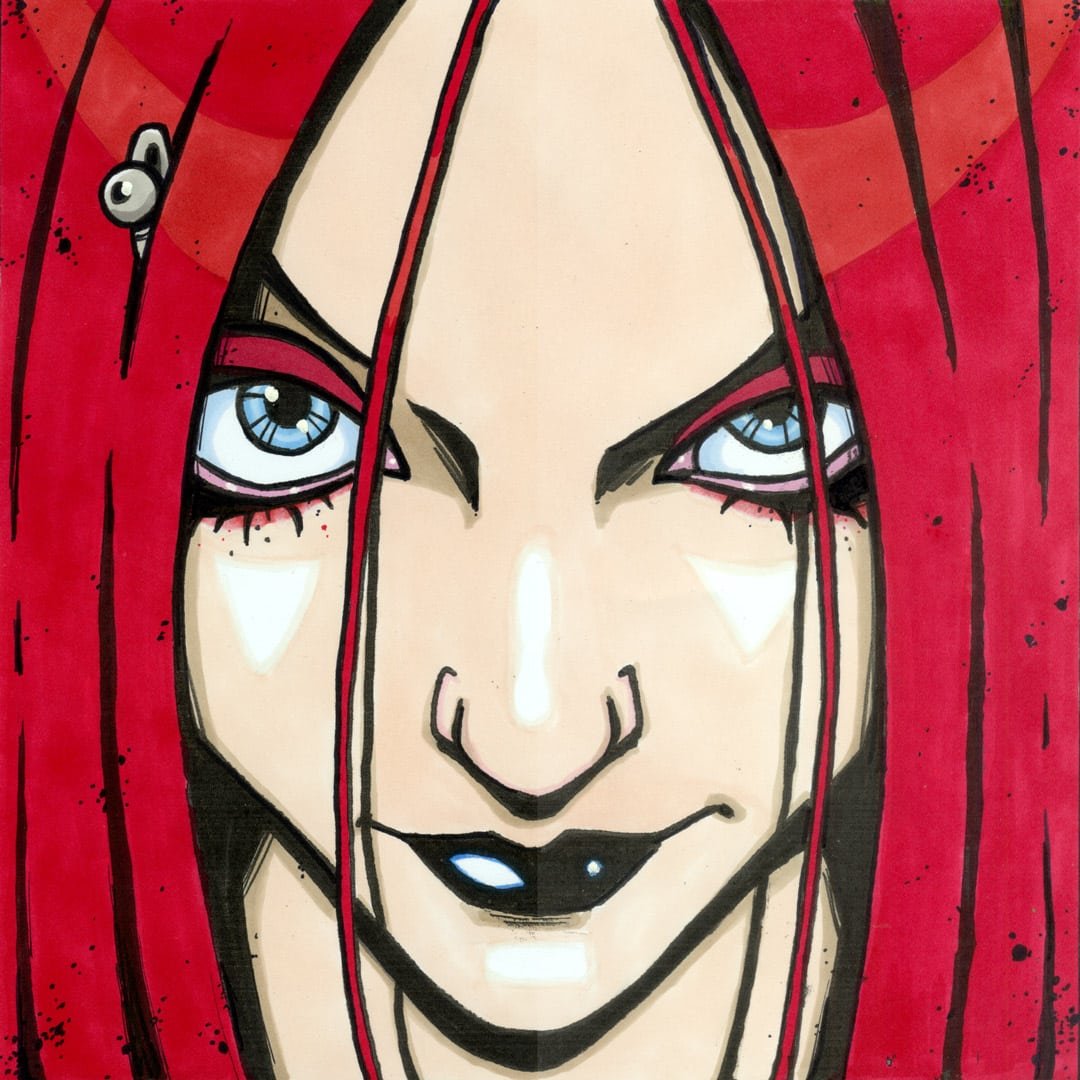 HEY Y'ALL!
First, I gotta apologise – we've had a few complaints about my 'feem toon' keepin' people awake at night with its ear-worm bombardment of…PANDORA! PANDORA! PANDORA! PANDORA! Sorry 'bout that. May I suggest mindplugs?
Also, others have raved that they love our Blood & Peroxide 'views on the news' so much, that they've begged we go DAILY! C'mon, kids, this is all brand new –  we're still workin' shit out! Baby steps. Baby steps.
Also, someone DARED ME to release a Secret Cheese An' Pickle Sandwich ClubT-shirt! Have you EVER encountered me? You DO NOT dare ME! Plus, it's a secret…and I have no idea what yer talkin' about….
PARAMORE have done a surprisin' revamp of the cover  their 2013 self-titled album…which I can neither confirm or deny, I had anythin' to do with…! But, there it is, streamin' on all platforms, our Hayles wearin' a denim jacket with 'GROW UP' spray-painted oh-so-very-stylishly-yet-street on the back! But, why? We don't know why. Maybe next year's album 'This Is Why' will answer…why.
GREEN DAY have officially told me that they have officially been recording official new music in London an' LA. And that's official. An insider on the inside unofficially officially informed me, that some workin' song titles are 'Combat Wombat', 'Green Jellybeans Are Radioactive' and 'Sonic Marzipan'. Although, these titles could, as they say, be subject to change. In the meantime, the punky trio triumphantly reflect, "WTF – what a year!". Ah, an' who knows what glories the future holds for our heroes. Me, I'm just lookin' forward to possibly stuffin' my ears with Sonic Marzipan…
THE LINDA LINDAS have released a Christmas single! See – it CAN be a perfect world!! 'Groovy Xmas' literally fizzes with Yuletide effervescence… an instant remedy for indigestion an' heartburn! And take in these lyrics, 'We'll all watch Charlie Brown's Christmas/ Then Home Alone, Elf, and The Grinch/ Same playlist every year /Mariah brings the cheer'. They nail it! An all time Xmas classic – and it's only JUST been released! And, me, I'm inspired – next year I might release a Halloween single as The Pandora Pandoras…
KEVIN CONROY, the voice of Batman has been tragically taken from us. Famed for his intelligent and intimidating portrayal of the Dark Knight on Batman:The Animated Series, Conroy made it near impossible to accept anybody else voicin' him! When DC produced a Batman animated movie without him – you just shouted at the screen, "Why didn't you idiots just use Kevin!". Conroy is irreplaceable. We will miss you so much, Mister. So fuckin' much!
PAUL COOK, drummer of the Sex Pistols, reveals that he's disappointed that they never released a follow-up to 'Never Mind The Bollocks..'. No. Just, no. Woulda been a big mistake Huge. Massive. Cooky-boy literally is talkin' bollocks….
OZZY OSBOURNE says he doesn't want some Johnny Depp-type actor playin' him in his impendin' biopic, instead, preferin' an unknown. Oz actually phoned me on the batphone to see if I had any ideas. And, for the life of me..I couldn't think of any unknown actors that I know of! Maybe the unknown actors are all unknown. I mean, who is YOUR favourite unknown actor? Meanwhile, Johnny Depp is more than welcome to play me… 
MIKE BATT…remember-member-member him as the genius behind The Wombles' hits? Well, he's unearthed an' unleashed some old prog rock epic he recorded back in '72, 'Variations On A Riff – Reflections On A War'. It features guitarist Chris 'Motorbiking' Spedding, who, many believe played on the Pistols album(bollocks!), and, who, like Batt, went on to dress up as walkin' carpets The Wombles on Top Of The Pops. But, c'mon, some o' those lyrics were KILLER! Who could forget Super Womble: 'He flies into your window when you're trying to get some rest/ You know it's Super Womble cos his name is on his chest'! CLASSIC!
GENE SIMMONS blasts the Stones! No, not Jagger's mob – KIDNEY STONES! The Kiss' bassist had to go to hospital to have his internals zapped(by Dr Love?) to remove an excess of the annoyin' little buggers. "Just cleaning the tubes," informs Gene, "looks awful, but really no big deal". Yet, bein' as a kidney stone is made from chemicals in the urine, they were literally takin' the piss outta Kiss! Whatever, we here at Blood & Peroxide wish The Demon a speedy recovery. And, I'm sure we can expect the stones, medical gowns, masks and head coverings to appear in the Kiss Merch Store any second now…
So, Pandora, what's the story with yer annoyin' 'feem toon'?
The directive was simple, it had to ROCK an' say 'Pandora' quite a lot. The only thing I wasn't happy with, was the 'Bitch Bitch' reference.
Well, yeah – cos it's mine!
Had no choice, we couldn't think of anythin' else that rhymed with, 'cheese an' pickle sandwich'.
Erm, 'itch', 'snitch', 'Abercrombie & Fitch'.
Riiiight, like I'm gonna have 'Abercrombie & Fitch' in my kick ass theme tune!
La-la-la, not listenin'…!