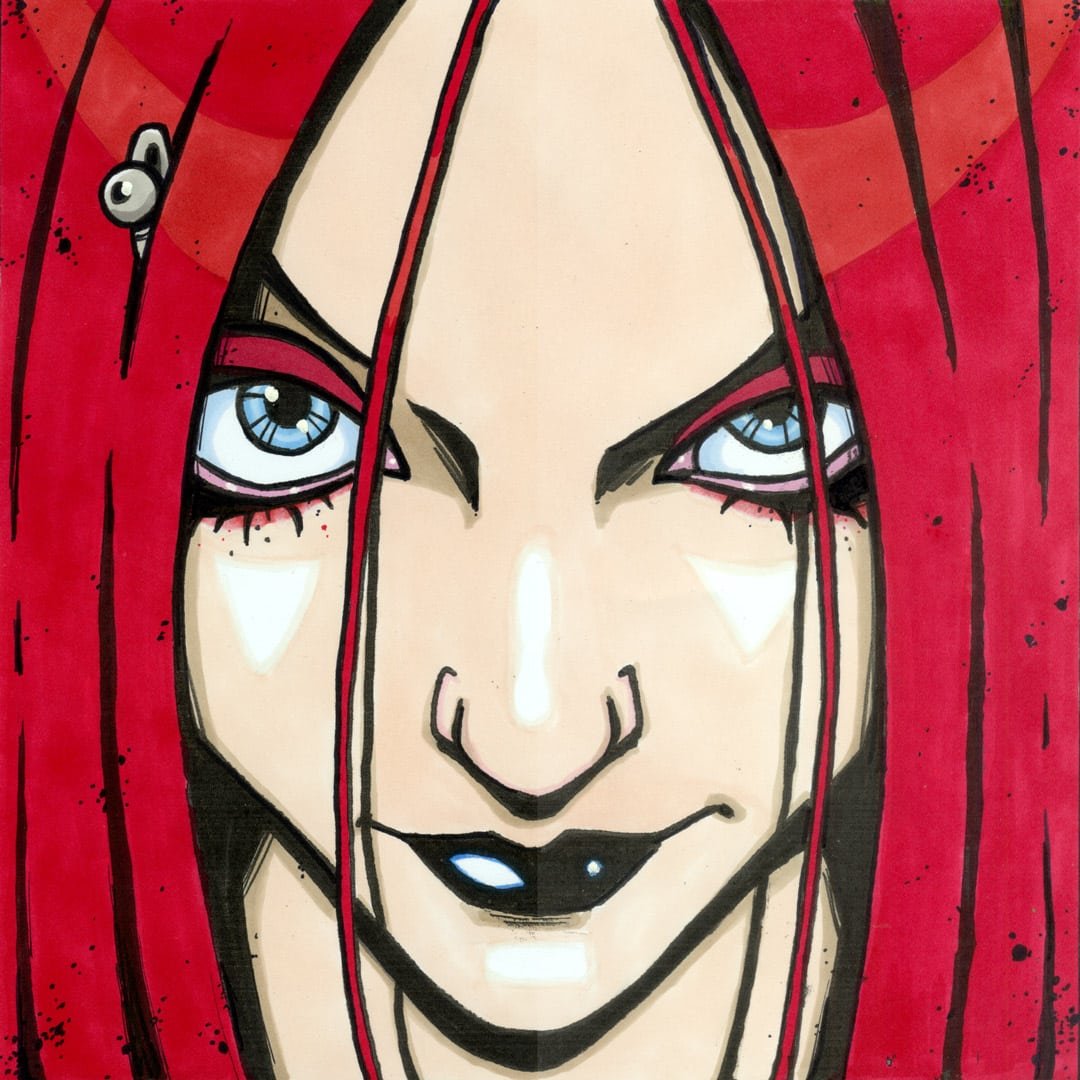 HEY YOU!
Ya miss me? I'm back.
For those of you who came in late, I'm Pandora – of Kerrang! rock magazine. Some years back, I took over the comic-strip there from my Auntie P – who the, er, 'more mature' will know as the pneumatic  'Pandora Peroxide'.
So, what the hell is this deal? Well, peoploids, every occasionally, me an' my Auntie P are gonna do our take on what took our fancy durin' the week; if it's news – then it's fair game. Sooo, if fun ain't yer thang, then you've got off at the wrong stop.
Elsewhere, you can find galleries, T-shirts and, for the first time ever – Pandora/Pandora Peroxide strips to purchase! Originals – none o' yer piss take mass produced art print bollocks. Once it's gone – it's gone. Own it! Literally!!
So, get on-board, kiddies; not everythin' is black & white – some things are blood & peroxide.
                                                                                                                         PANDORA X!
TAYLOR SWIFT announced, that, amongst a buncha other notable supports for her U.S. stadium 'The Errors' jaunt next year, PARAMORE are set to play the first date.
Taylor exclusively informed me that, "Feeling the luckiest person alive to take these brilliant artists on tour w/me," before swiftly (no pun intended) whackin' it on social media!? Nice. Cheerz, Swifty.
MANESKIN (don't know how to put that little 'o' thingy over the 'A') have sensationally revealed that their new album, set for release in Jan, will be titled 'Thrush!'. Which, may explain the band's individual reactions to a skirted personage leapin' over 'em on the album artwork. Oh, wait, no, sorry, there was a smudge on the press release – the album is in actual fact, titled – 'Rush!'   One assumes recent stuff like 'The Loneliest' and 'Supermodel' could be included, yet, an insider informs me that one new track is titled 'Satanic Bunnies Eat Pencil Sharpeners'. Although, another insider, who is even more on the inside than the original guy, insists, that that title may be subject to change.
FRANK CARTER & THE RATTLESNAKES ragin' new track 'Parasite' makes me wanna itch. An' scratch. An' shower in bleach. Yeah – it's that fuckin' good! I was so vibed on the first hearin', I kicked over me coffee table! Still, Frank exclusively informed me, that he cannot take responsibility for breakages in the home of excitable listeners. Carter an' the Rattlers will be takin' over the London Underworld for three nights in early December. So, peel yerself off yer piss-stained, semen-soaked,  flea-infested mattress an' get down there!
POPPY reveals she will not be the main character in her next Z2 graphic novel Tit Tat, instead, it features new characters she co-created. Explains ultra-talented Pops,"Tit Tat merges superpowers, suspense and weird fiction into a bombshell graphic novel". Can't wait! Don't wanna wait! Where's my advance copy?! In fact – why ain't I in it!!!
GHOST have uploaded the latest instalment in their ongoin' vid series – 'Chapter: 14 Road Trip'. And, rather than enjoy it, I tried to make sense of it. Especially Cardinal Copia's confusion over residue from Papa Nihil's shart. I mean, surely ectoplasmic discharge from a phantasm isn't beyond feasibility! As for the rest of it…ain't got a fuckin' clue. Did watch it 200 times, though, and now have a restrainin' order from YouTube.
ME OL' MATE STEPHEN PEARCY!
MICK MARS is steppin' down from Mötley Crüe due to his ongoin' battle with the degenerative disease Ankylosing Spondylitis. Really sad. I'm not a major Crüe fan, but dug Mars' playin'. The crunchin' riffs on the 'Shout At The Devil' album, really…crunched. Always loved to hear a single solid guitarist battlin' away – like Jonesy in the Pistols! So, gonna miss ya, Mars. Can't believe they're replacin' you with that stoopid robot from that rubbish 80s movie.
WENDY O. WILLIAMS' '85 Camden Palace show is set be released on video on Nov 18, subtly titled 'WOW: Live And Fucking Loud From London!'! Also, Lemmy 'n' Wurzel from Motorhead join the High Priestess of Metal for 'Jailbait! I mean, whaddaya want – jam on it! Our Wend was a major inspiration of mine and her single with The Plasmatics, 'Butcher Baby', is my all-time fave song! Wendy's sandpaper larynx over chainsaw and chainsawed guitars! A headbangers' delight, that even graciously cuts out for 'oh yeah-yeah's' and 'oh no's' to give one's noggin a brief respite from whiplash.
We miss ya, Wend! Oh, yeah-yeah!
STEPHEN PEARCY of Ratt has collaborated with Writers & Rockers Coffee Company for his own line of signature coffees. Turns out, when he comes off stage parched an' drippin', our boy Stevie likes nothin' more than…a slug o'Jack? Why, no – a steamin' hot cup 'o Joe, natch! Anyways, all 'blended to his specifications' Pearcy's collection includes 'Hollywood Wired', 'Double Shot', 'Ultra Nitro' and, named after Ratt's biggest hit – 'Round And Round'. Although, I think he missed a trick with 'Out Of The Cellar' cut – 'The Morning After'. C'mon! Wake up an' smell the…well, you know. Plus, wasn't there that Desmond Child produced album 'Percolator'…
DOLLY PARTON wants to reunite Led Zep to play on her planned rock album, which will feature 'Stairway To Heaven'! Dolly has previously recorded the infamous guitar-shop irritation bluegrass-stylee, but now wants to go for full on rock-cred by ropin' in Planty an' Pagey. And, if anyone can charm 'em into it – it's the First Lady Of Country! In, the meantime, any rumours you may have heard of Ms. Parton, Jennifer Finch, Joan Jett and myself teamin' up to form a superstar side-project called The Dollywood Vampires, is total bollocks…
Gotta hand it to ya, Pandora, can't believe you actually got yer shit together to ignite all this.
Just glad yer with me on this ride, Auntie. Just, y'know… try an' reign in yer bombastic old school mentality.
What the fuck's that s'posed to mean!?
Well, Austin Powers, this is the future, ya gotta be careful what'cha say. Ever heard o' woke?
'Course I have – I rock 'n' roll all nite an' party every day! I'll sleep when I'm dead!
It's an awareness of social inequalities.
Like… not standin' yer round?
It's more political than that.
You know I don't do politics.
Well, neither do I, really. I mean, I might be guilty of the occasional verbal sideswipe, but, I do like to think my moral compass is sound. For example, I determine a person…
No, no, please don't say, 'by what's in their heart', or I will puke. 
…on their energy.
'Energy'? Yeah. I like that.
And you?
Well, I only know band members.
And how do you judge them?
By whether their latest album is crap or not.
Fair enough.